1、Environmental protection yarn series of NiSi spinning
As the fashion field has always favored the sports trend, outdoor fabrics are rejuvenated again. The light windproof running suit is suitable for summer, and it is also the key element of outdoor activity layer clothing. Lightweight, weather-resistant and Sport friendly protective layer is suitable for many sports, such as running or hiking. Translucent, light, thin and tough fabric is easy to fold and store, while waterproof, making it more suitable. Environmental protection and sustainable development have always been an eternal topic. Doonly's new series of environmental protection yarn of nylon spinning in spring and summer makes it the first choice for single-layer outdoor in spring and summer.
2、Wrinkle series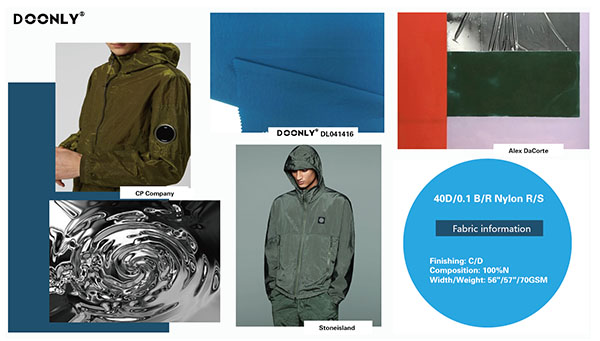 For ss21, the technical flash is still very important, which is integrated into our future commuting trend. Make these textiles have a softer touch and a more wrinkled or washed appearance for a relaxed but luxurious feel.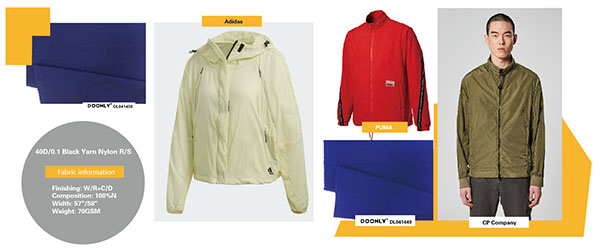 The use of black silk nylon lattice fabric makes the fabric have variable characteristics under different light conditions. Synthetic fiber will be the key. The advantages of breathability, water resistance, storage and washability are the key points of doonly's research and development. Its simple and elegant design also enables this multi-functional coat to be worn not only on the field path, but also in the urban environment.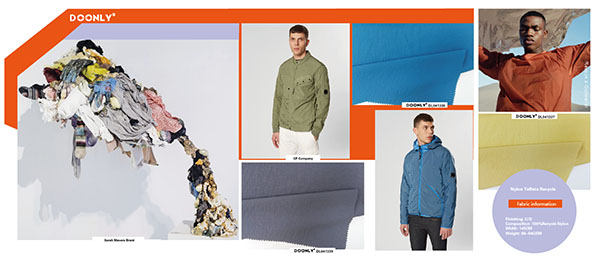 As consumers pay more and more attention to health, people spend more time on hiking and outdoor leisure sports, so as to promote functional demand and technological innovation. Using nylon environmental protection fabric, using wrinkle dyeing and finishing, and paying attention to sustainability are the constant topics of doonly's research and development.