Soft shell has become an indispensable and necessary piece, urban wear is popular, but its sports properties have not changed. Doonly recently launched the three in one fabric, which uses densified semi gloss polyester empty package and four-way elastic composite, which can not only ensure functionality, but also has very good elasticity, which is an excellent choice for the production of functional outdoor clothing.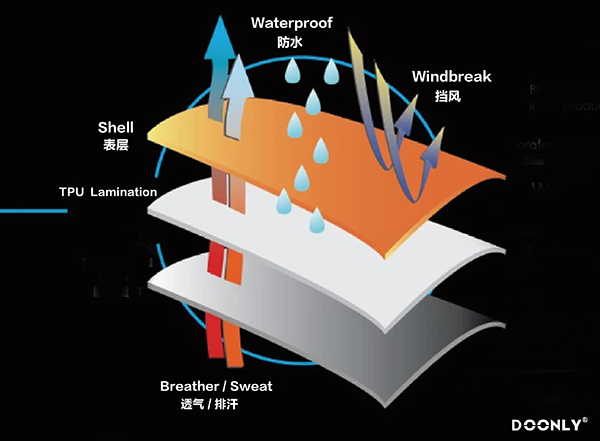 The advantage of three in one fabric is that it can deal with a variety of outdoor environments. According to the climate and altitude, the stormsuit is thick in winter, so it can be worn in spring and autumn. The fleece is light and soft, easy to compress and good in warmth. Soft shell windproof, rain proof, suitable for single wear, wide use.
Softshell fabrics are mostly woven or knitted fabrics with good elasticity, TPU, PU, PTFE and other functional films + lining fabrics with different thickness. The surface anti splashing makes the fabric have lotus leaf effect and keep dry. It can meet the needs of ordinary rain and snow weather, and is more used in non professional sports and leisure fields. Because it is easy to sweat in outdoor sports, sports fabrics are required to have outstanding air permeability, which can enhance air circulation, effectively sweat, and keep the body comfortable and dry.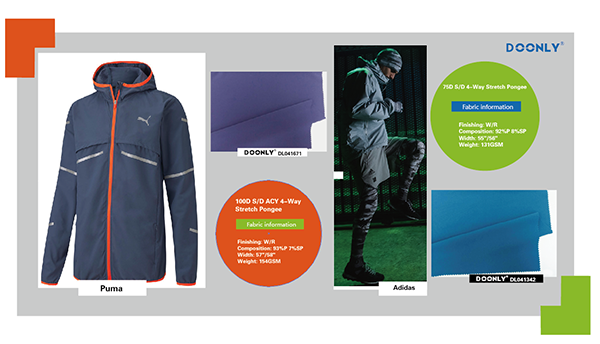 In this era of intense anxiety, the need for peace and comfort makes the home gradually become a shelter for self-care and rest. Outdoor fabrics are also rejuvenated. Lightweight windproof running suit is suitable for summer and is also a key element of outdoor activity layer clothing. The lightweight protective layer, which is waterproof and does not hinder Sports, is suitable for many sports such as running or hiking The new semi gloss polyester four side elastic is not only waterproof, breathable, but also elastic. It is suitable for pants, jackets and coats without limitation.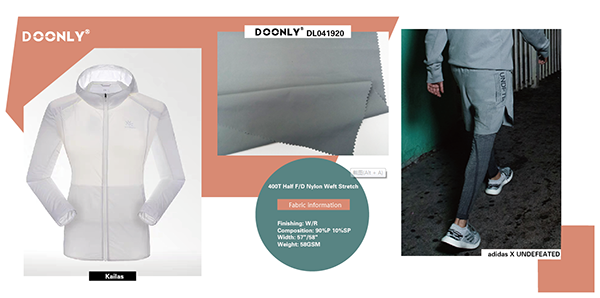 The lightweight fabric with elastic pull-up allows the sportsman unlimited exercise experience even in hot summer. These materials are designed for core sports, but their smooth and smooth appearance is also suitable for everyday wear. The semi dull nylon weft elastic developed by doonly can be used not only in coats, jackets, down jackets, but also in trousers, with tear of 14.3n/11.0n and slip of 3.0mm/3.0mm.