1、

False twist series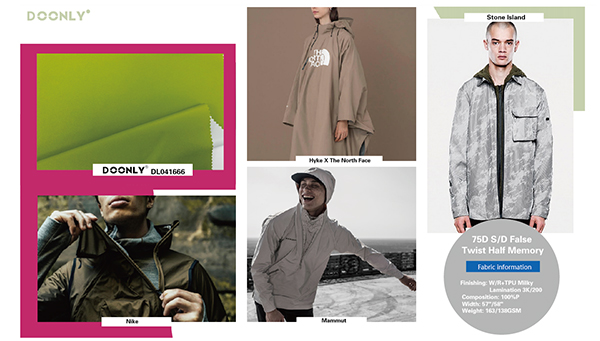 Due to the increasing demand for professional outdoor sports, outdoor fabrics are produced. TPU film greatly improves the waterproof performance, moisture absorption, quick drying and other functions of ordinary fabrics, providing a reliable fabric guarantee for outdoor sports. The high-quality demand brought by the consumption upgrading is also increasingly strong. The TPU film fabric of the false twist silk series developed by doonly can not only solve the functional demand, but also greatly improve the handle quality of traditional fabrics.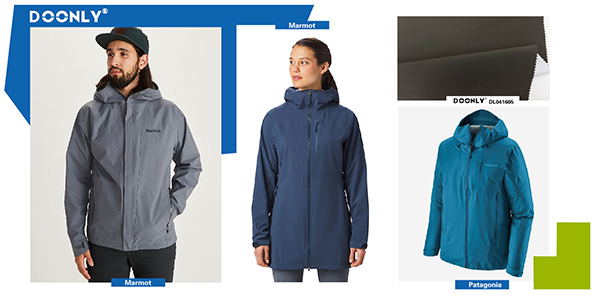 The moisture permeability of TPU fabric decreases with the increase of the density and thickness of the fabric bottom structure. Its film covering fabric can make the fabric waterproof and effectively discharge the water vapor from the human body through the membrane, greatly improving the outdoor experience.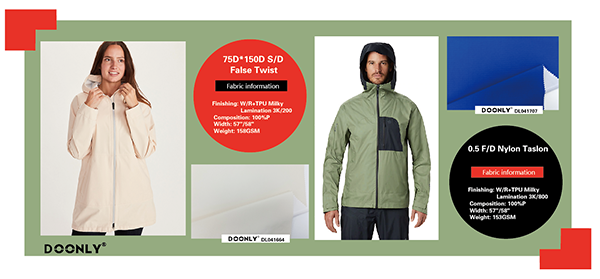 The new generation of textured soft shell fabric revives the luxury sports style of the leisure sportswear in the 1980s, but it is more light and shows a natural irregular structure, which can be used to create a piece suitable for the hot summer. The broken concave convex texture, grid pattern and soft rough section on the fabric can add natural beauty to the design.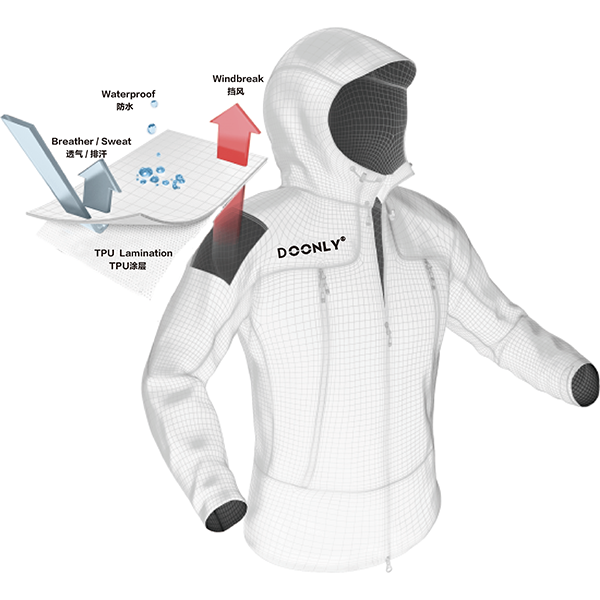 The soft shell fabric not only provides all-round protection for the body, but also has better air permeability and warm extension through tight fiber arrangement, wind and rain proof membrane and other technologies. This kind of fabric is more suitable for resisting the changeable climate of the city. It is suitable for functional appearance, combining seamless, laser cutting, laminating, multi-layer material laminating and other processes to improve the single product function.
2、Taslon series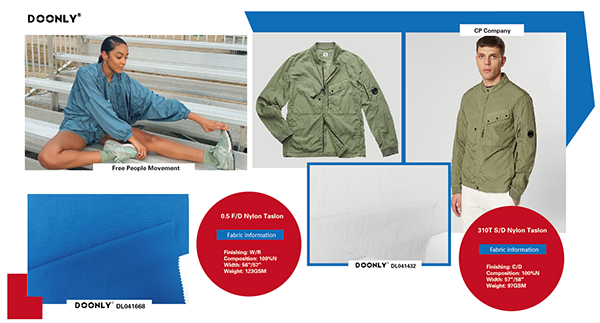 In the summer of 2021, the upgraded fabric will have a matte sports appearance, presenting a new sports refined style, allowing the design to wander between functional clothing and daily clothing. The Taslon series fabric developed by doonly, the outer layer of plaid and wrinkled fabric, makes the matte appearance more unique in technology and sports style.
3、Polyester weft elastic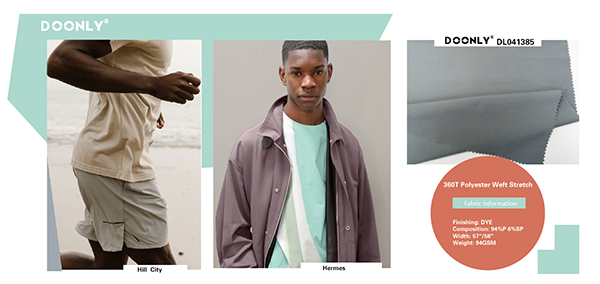 Multidirectional stretch raises the elastic woven fabric to a new height, bringing unlimited movement experience. These materials are designed for core movement, but their smooth appearance is also suitable for everyday wear. The polyester weft elastic fabric developed by doonly has a tear of 20.6n/7.1n and a slip of 2.0mm/2.0mm.